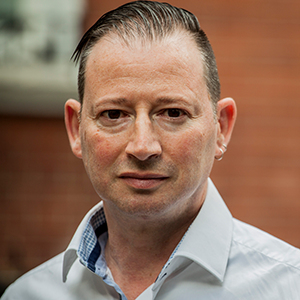 Darren Woolfson
Director of Technology & Visual Services
Darren has worked in the film and television industry for thirty years. Having graduated from Ravensbourne College in 1989 he started his career at Complete Video in Covent Garden. In 1990 he joined Molinare as a Maintenance Engineer and eventually left in 2007, seventeen years later as their Technical Director.
Darren was involved in the management buyout of Molinare in 2003. He and his fellow directors turned a struggling post-production company into a highly successful TV & Film Facilities Village seeing turnover more than double in four years.
In 2007 Darren left Molinare in order to join Pinewood Studios. Here he served as part of their senior management team as both Group Director of Technology and Director of Creative Services Technology. Darren looked after all aspects of technology associated with feature film and television production and post-production and went on to run the Group's Picture Services division in the UK and also further afield at the Group's interests outside of the UK.
In 2020 Darren left Pinewood in order to return to Molinare as their Director of Technology and Visual Services where he is once again using technology and innovation to help drive success.
During a year where COVID has created all manner of challenges Darren has worked with his teams to offer solutions for both staff and clients to work remotely while developing new and evolving existing facilities at Molinare.